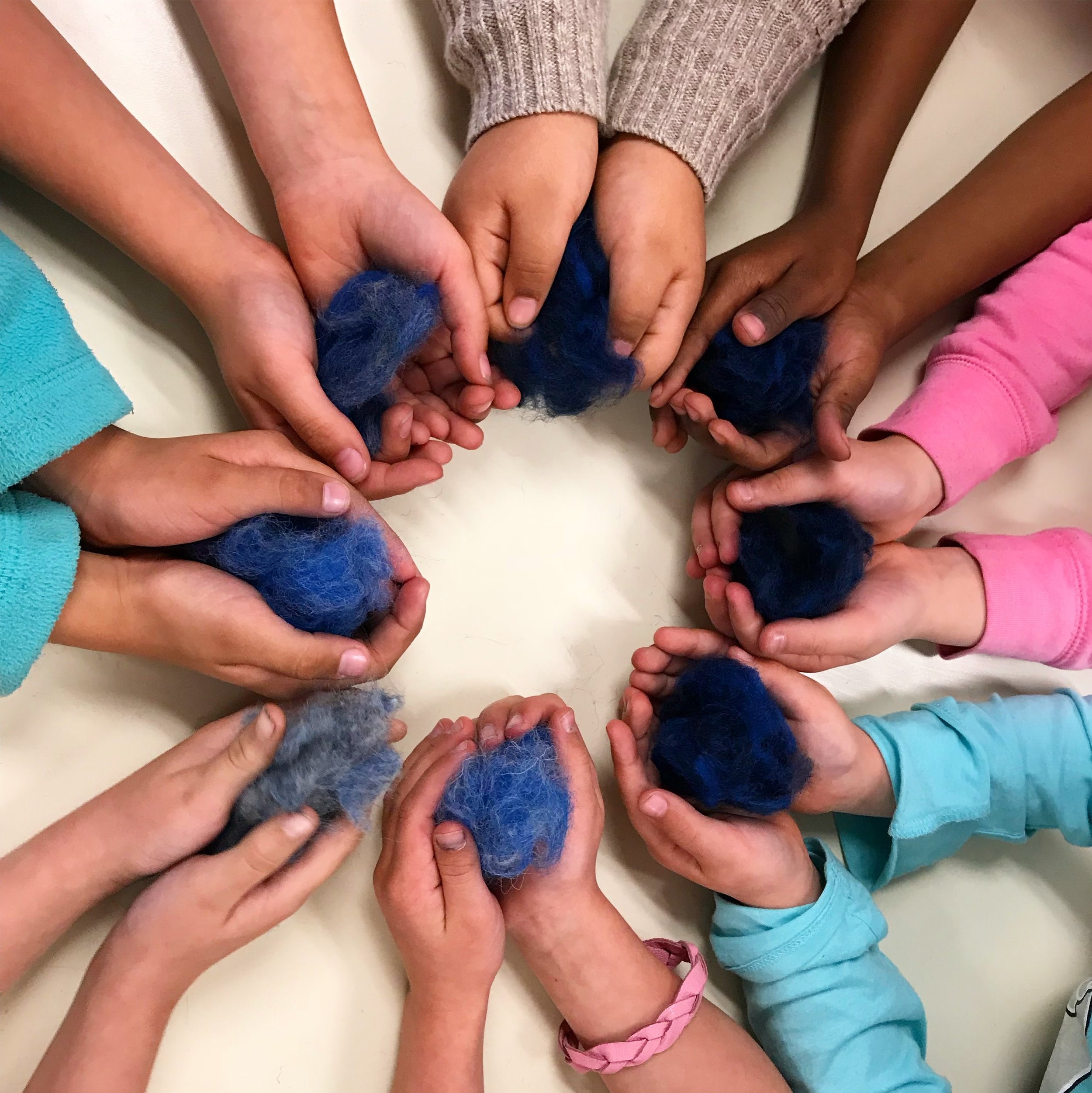 Since graduating from Pratt Institute in 2016 I have worked in collaborative community art. I believe that sharing a creative and artistic experience is a powerful way to bring communities together. I have made it a part of my life as an artist to travel to schools and organizations to lead workshops and artist residency programs. During these programs I work with members of the community, children and adults, to introduce them to a new and exciting artform in order to create individual and collaborative pieces.
ArtPopStreetGalley
This year, my work was selected to be a part of ArtPopStreetGalley. Every year, this organization provides billboard spaces with Adams outdoor advertising to display local artists work for a year. It will be on view for the surrounding communities starting January 2019. Every year this competition turns advertising space into gallery space and connects the communities of Eastern Pennsylvania with their local artists.
CrowdRise.com/ArtPopStreetGallery
Fiber Living Wall
Residency at Forks Elementary, Easton PA
In November 2017 I went to Forks Elementary to work with their students for three weeks on a collaborative community art project. Forks Elementary students were K-5 and every single student was able to collaborate on this piece. The students were shown the process of wet felting, a method of adding soap, warm water and applying agitation to unspun wool roving to create felt fabric.
This new skill was used by all the students to create individual pieces of felt in the form of leaves, vines and rocks. Every student also worked on the large piece of felt. They worked together in teams of four or five to add new wool, apply soap and water and roll the 5 foot mat back and forth to agitate the wool.
At the end of it, I took the work the students had created and pieced it together into large fiber living wall. Through hand stitching and needle felting, all of the students individual pieces were worked into one cohesive piece. The end result was a piece of textile art made entirely of wool and meant to appear as a lush garden on the wall, full of life and creativity. The piece now resides permanently at Forks Elementary. A piece of large art the students can look at everyday as they grow and think "I made this, we made this together" and feel connected to their community through that shared artistic experience.
Carlock Residency
Residency at Moravian Academy Upper School, Bethlehem PA
In September 2017 I was the recipient for Carlock Award at Moravian Academy Upper School. Every other year this award exists to bring visual artists to the school to lead workshops with the students in their artform. I worked with the freshman class along with some specialty art classes to teach the students the process of wet felting, needle felting and 3-D fiber sculpting. The students made a variety of individual projects including mixed media felt paintings, felted vessels and wool monsters. Each student spent at least three or more of their art classes with me, learning these new skills and working in a hands on medium to create something truly unique. The residency culminated with an artist talk given to school to discuss arts education, my body of work and the experience of working with the students in fiber arts.
Photos by Lindsay Woodruff
Monsters
Residency at Donnegan Elementary, Bethlehem PA
I spent 8 weeks in the winter of 2018 working with the third grade students of Donnegan Elementary to teach them wet felting, needle felting and 3-D fiber sculpting. The students were learning about greek mythology and the many monsters who form it so I worked with their art teacher, Tiffany Anderson, to create a program that tied their lesson together with my visit. Over the course of eight classes the students learned three dimensional wet felting, needle felting and textural design to create their own personal mythical monster. The residency culminated with a student show held at The Banana Factory in the Lehigh Valley. The students finished pieces were displayed in the building during First Friday where they and their families could see their work on display. The students monsters were accompanied by a narrative written by the students detailing their monsters name and their story, a necessary component to any mythical monster.
This residency was organized by ArtsQuest
Shades of Blue
Residency at March Elementary, Easton PA
In March of 2018 I went to March Elementary to work with students k-5 on a collaborative community art project. I worked with their art teacher, Carla Rodrigues to create a project that was collaborative in nature and tied in their current lesson. The students had been learning about color theory, tints, shades and Picasso's Blue Period. The resulting project combined wet felting, color mixing and color theory into a collaborative project every student in the school was able to participate in.
Each grade worked together to create their own felted wall hanging in various shades of blue arranged into a gradient. They learned how to blend wool roving with their hands to mix new colors and how to apply their color to the larger piece based on its tint or shade. They mixed white, black and various shades of gray to various shades of blue to create a wide range of colors. Every student had a hand in creating their class's piece and experienced wet felting and color theory all at once. The results were wonderfully unique and abstract gradients of blue, wet felted onto a cheesecloth backing. The pieces reside at March Elementary.
Check out the work of Carla Rodrigues at www.carlasartstudio.com
Storytelling Through Fiber
Identity through the Eye of a Needle
Residency at Moravian Academy Upper School, Bethlehem PA
In the spring of 2017 and 2018 I led a series of workshops for the Juniors and Seniors of Moravian Academy Upper School Short Story and Poetry classes. The object of the workshops was to give the students a new medium to express their stories. They learned wet felting, needle felting, embroidery and beading and were prompted to bring in found items to add to their pieces. They used their new skills to embed and attach these items to their felt paintings, adding layers of texture and meaning. Encouraged to use color, form and texture to relate the key elements and emotions of their stories, each piece was truly unique. These workshops provided the students a space away from their day to day lessons to experience a hands on art form that lends itself to freeform creativity. The students created wonderfully individual and textural pieces employing a variety of fiber art techniques and like all good art, each piece told a story.
Making A Monster Workshops
I have taught this workshop many times and I never see the same monster twice. During this two hour workshop kids and adults learn how to wet felt three dimensionally and needle felt. Each and every student walks away with a finished monster every time. They start the class learning about wet felting, how it works and the techniques. The next hour is spent wet felting their monster's bodies and the last hour is spent stuffing and decorating their creatures. Adding horns and eyes, lumps, bumps, wings and strange features. I have seen carrot fish monsters and creatures with rainbow hair, vampire cats and dragons. All made with wool and within two hours which is a wonderful thing when most students are completely unaware of wet felting and have little to no experience in fiber arts. Seeing the immediate creativity of every student, no matter their age or artistic ability, is always inspiring and deeply rewarding.